Magnolia Knight Newsletter
July 2017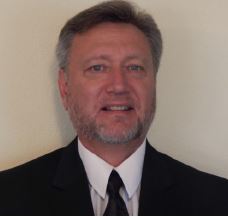 From the State Deputy
Greetings to you all. As I'm writing this commentary, we have three days left in the Fraternal Year. We currently have eleven Councils that have 100% qualified for Star Councils. We have another twelve Councils that have submitted their Form SP-7's and are waiting for either insurance or membership numbers to show up on Supreme's list. We need fifteen Councils to qualify for Star Council to reach Circle of Honor for the second year in a row. At this point, we have reached our New Council, Intake, Net and Net/Net goals. The Star Council goal is the last remaining factor. I feel extremely confident that we will pull it out in the final couple of days. You have all worked very hard to get us to this point. State Officers, District Deputies, Directors, Chairmen and Council Leaders have all worked together to bring us to this point.
Please, join me in welcoming our newest Council. Fr. Peter Quinn, Council 16763, Holy Rosary Parish, Hattiesburg. Thanks goes out to Immediate Past State Deputy, Jim McCraw, District Deputy, Bill Jarrett, newly appointed Financial Secretary Collins Barnes and everyone else involve this process. Congratulations to all the newly elected officers and I look forward to working with you all.
I wish we could sit back on our laurels and take a break. But, here it is the beginning of a new fraternal year and there's no time to rest. We have new officers taking over and installations all over the State. Time to go to work!
Read more
Knights in Action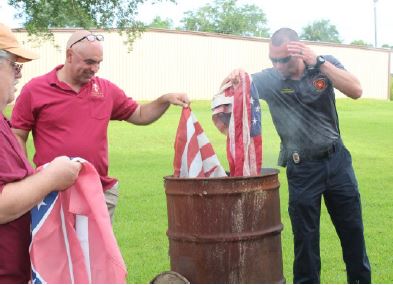 D'Iberville 4th Degree Assembly 3007 held their annual "Flag Retirement" ceremony, where they properly disposed of ruined and tattered American Flags by burning them. Over 100 flags were received throughout the year. Along with the assembly, the D'Iberville Fire Department assisted with the ceremony.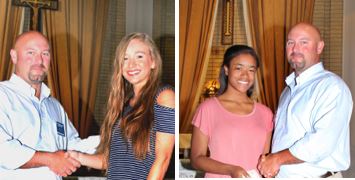 Council 5654 awarded $500 scholarships to Seniors Christine Dalton and Sarah Pleasant donated by Jean Nielson in honor of her son Chris Nielson. Chris was a member of the Council and died on active duty with the Air Force. The seniors excelled in school and were active volunteers in St. Alphonsus Parish and in the community.
Read more news
from
across the state.